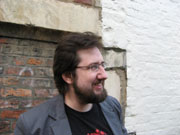 In English_

Book review: Al Ewing - I, Zombie
The deader the better
A new series of paperback originals called "Tomes of the Dead" combines flesh-eating zombie fun with other genres - such as historical novels, British gangster melodrama and hardboiled private eye adventures ... Let´s start watching the zombie detective! 10.11.2008
Chapter one is titled "My Gun Is Quick" and reads like the very best Hong-kong action spectacular you never saw, mixed with some of the real good "Matrix" special effects. The protagonist, a tough-as-nails private investigator, is chasing (on behalf of his millionaire client) a gang of black-suit-wearing kidnappers so fantasically incompetent one suspects they learned their criminal trade mainly from watching Tarantino movies.
John Doe (our hero's name) finally catches up with them in a warehouse, takes them all out and manages to free the little girl - who will probably remain severely traumatized till the day she dies anyway. Why, you ask? Well, Mr. Doe not only stopped time during the fight, he also survived multiple fatal gunshots, let his severed hand take on the moronic gangsters independently, and for the finale ended up eating all his victims' brains.
Yes indeed, the gumshoe in the shabby suit is in fact a zombie. Why he happens to be among the walking dead escapes him, as classic Noir convention dictates that most of his memory is missing ... but rest assured, the reader will be filled in on the blanks - in graphic detail- throughout the course of the story. The selection of competently adapted pulp standards offered here ranges from mad scientists to a zombie hunting guild to evil alien invaders trying to enlist our protagonist's help in turning our planet into a kind of intergalactic fast food joint.
"I, Zombie", penned by British comic book writer Al Ewing ("2000 AD", "Judge Dredd Magazine") is volume 4 in the wonderful series "Tomes of the Dead", which reinvents the undead flesheater genre in fun and unexpected ways. The previous novels already crossed over into the British gangster, pirate and historical revolution tale territory - and as a brief outtake at the end of the book tells us the next volume promises to take us to ancient Rome.
One more thing: "Tomes of the Dead" are only a small part of the paperback selection of Abbadon Books (the publishing house for British computer game company Rebellion Developments which - unsurprisingly - has also taken over 2000 AD). Other Abbadon series cover various genres of science fiction, fantasy and horror, from postapocalyptical chillers ("The Afterblight Chronicles") to steampunk ("Pax Britannia") and sword and sorcery ("Twilight of the Kerberos").
This, of course, means that EVOLVER will most certainly cover Abaddon in the future ...

Al Ewing - I, Zombie
ØØØØ
(Abaddon Books)
Leserbewertung:





(bewerten)
Links:

EVOLVER Reloaded
About EVOLVER - The International BETA Edition
"EVOLVER - Play it again, HAL"
The Austrian web-based magazine EVOLVER is the first (and still the best) online publication by professional journalists and writers in the German speaking countries. For more than twelve years now (since autumn of 1996), the EVOLVER editors provide their readers with exclusive stories, specials, reviews and opinion columns from all areas of pop-, cyber- and subculture - from Hunter S. Thompson to "Bastard Pop", from Nick Tosches to Frank Miller, from original trash novels to a comprehensive history of porn movies.
Links: