In English_

Vienna noir
Dark Vienna
While the Austrian Film Museum is vacationing in sunny Italy, the Filmarchiv Austria is offering a shady alternative: a journey into a dark Vienna, home of spies, killers, disreputable barmaids, psychotic perverts, Nazi loyalists and taxi drivers with no passports. Thomas Fröhlich travels in time from the year 1949 to 1974 and encounters some seedy characters. 15.06.2009
Upon regarding Vienna today, oversaturated in its entirety with events every day of every week of every year, sparing no (previously) quiet alley and no (formerly) cozy tavern with its feel-good, party-around-the-clock-mentality, it becomes hard to believe it was ever any different: namely, that nothing ever happened in Vienna. That aside from being grey,Vienna's primary color was ... well, grey. A bit shady. Dark, even. No multicolored blinking lights everywhere. No ringtones. A bit quieter. And all that isn't too far in the past.
Precisely this era is being covered by the Filmarchiv Austria's retrospective on "Dark Vienna", currently playing in Vienna's picturesque Metro Kino.
Make no mistake though: Plenty happened in the post-war era and the years after, up until the seventies. It was simply the time before fun was declared an inalienable human right by attentive wine seminar frequenters in the old city, party-attending postgraduates in the more fashionable semi-bohemian neighborhoods and even coma drinkers in transdanubian suburbs. While the pre-war city liked to view itself as a kind of waltzing Arcadia, steeped in old world elegance, post-war Vienna was transformed into a hotspot of international intrigue - both in real life and in the movies. A Vienna full of debris, of women living among the ruins, homecoming soldiers and black marketeers. The shadow-economy was flourishing. Additionally, Vienna ended up on the frontline of the Cold War, a hub for both organized crime and espionage, not to mention old Nazi cells with very blurry boundaries between the players.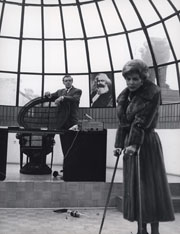 Starting with perhaps the most famous Vienna Noir, Carol Reed's The Third Man (1949), the "Dark Vienna" ("Dunkles Wien") exhibition curated by Olaf Möller presents this specific cityscape through a selection of contemporary crime movies, espionage thrillers and social commentaries/exploitation flicks presenting the shady underbelly of the divided city and the first few decades of the Second Republic. Throughout approximately 20 movies, it ultimately documents the fractures dividing post-war society, caught between lust for life and poverty, rendering semi-legality into - unacknowledged - quasi-normality.
While "The Third Man" provides the universally acknowledged blueprint (or perhaps creative goldmine) for very nearly every one of the films shown here, Emile Edwin Reinert's "Abenteuer in Wien" (or Stolen Identity, as the English version is called) from 1952 represents a long neglected minor masterpiece with a story and atmosphere on par with the Reed classic. When one of his passengers is murdered, Toni (Gustav Fröhlich), a taxi driver without valid identification, simply grabs the victim's papers, has a friend give him a haircut ... and begins life as an American. This, however, is only the beginning of Toni's problems, as it turns out that said American was fairly well known - amongst the wrong kind of people. While the cast is delectable (Karl Farkas, for instance, as a grumpy waiter), the actual star of the film is the city of Vienna itself: semi-concealed in shadows, pockmarked with ruins, granting furtive glances at preserved palatial buildings of long-passed eras frozen in time, and, in between, no assurances, nothing, it's year one, prolonged far beyond the one night in which "Abenteuer in Wien" takes place.
The threat to one's identity in this film remains (apparently) nearly exclusively in the area of private life, similar to Harald Röbbeling's Asphalt (1951), or Kurt Steinwendner's Wienerinnen (1952), both of them a sort of answer to Italy's Neoverismo cinema in the style of de Sica and Rossellini. In contrast, Sheldon Reynolds offers up Foreign Intrigue, a Nazi espionage thriller starring Robert Mitchum, with a plot that entails international conspiracy, taking place on a mundane french Riviera and in a decrepit post-war back-ally Vienna of the darker sort.
Overall, the audience of this retrospective greatly profits from curator Moeller's hearty affection for genre pictures. His commendable lack of prejudice, even towards so-called smut and trash, ensures that the chronologically subsequent 1960s extravaganzas, whether by Austrian or other filmmakers, entail wonderful Eurotrash episodes such as Gern habe ich die Frauen gekillt ("Killer's Carnival", 1966). While that movie entertains us with Stewart Granger spying in the Café Sperl (as well as Pierre Brice and Lex Barker at other action-packed locales), Eddy Saller's S/M flick Geißel des Fleisches ("Torment of the Flesh", 1965) wins you over with the notorious Herbert Fux as a Viennese serial killer/pervert with a license to be outrageous.
And let's not forget Adrian Hoven's Der Mörder mit dem Seidenschal ("The Silk Scarf Killer, 1965). While Hoven was a charming ladies' man and favourite of the matinee-crowd during the 50s, he redefined himself as the director of proto-torture-porn such as Hexen - bis aufs Blut gequält ("Burn, Witch, Burn", 1969) or Hexen - geschändet und zu Tode gequält ("Mark of the Devil II", 1972) during the 60s and 70s. His silk scarf murder movie, as shown in the "Dark Vienna" retrospective, however, is simply a concise, no-frills genre piece about a girl who becomes a witness to her mother's murder. A common denominator of all these films is that while the city appears a bit more jazzy on the surface, it is still essentially the same dark and grey post-war city as before, slightly ashamed of its own provinciality.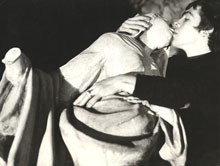 The 60s also granted us - as a fringe-benefit, if you will - a single specimen of what could probably be best described as Austro Nouvelle Vague. Or, as Austrian director Leo Tichat says himself about his only movie Die Verwundbaren (1965), about "Jeunesse dorée without God, but instead with vague desires": "In my movie, which takes place in Vienna, the city is more than just a prop. [...] It's a participant, a part, an agent." And said agent drags the protagonists into a maelstrom of insecurities, sex and violence, inevitably ending in the nightly celebration of one's own decline.
The retrospective ends in and during the 70s. In Il portiere de notte ("The Night Porter", 1974), director Liliana Cavani sets a tale in a 1950s Vienna luxury hotel, of a Nazi night porter and former concentration camp guard (Dirk Bogarde) who happens upon a woman (Charlotte Rampling) he had tortured and raped years ago. The two thus venture into a "relationship" marred with mutual domination attempts - thereby blurring the boundaries between victim and perpetrator and creating a juicy scandal at the time of release, as well as success at the box office.
Vienna, according to Cavani, is a pompous, decadent, yet degenerate environment fit for identically inclined characters. In Michael Winner's Scorpio (1973) however, early 1970s Vienna once more gets the chance to function as a hub of the parallel reality of international espionage, with Burt Lancaster, Alain Delon and Paul Scofield as hired secret service assassins. The Cold War, however, with its clear-cut concepts of friend and foe no longer exists, except in the minds of these aged warriors, betrayed by their own countries and organizations. The real conflicts are taking place elsewhere. Clever, global-minded businessmen are calling the shots and creating the new world order. Whoever refuses to acknowledge that fact is doomed.
Incidentally, a central location of "Scorpio" is Karlsplatz station, its underground passages resembling a labyrinthine trap, poised to snap shut even on the one who set it.The subway is under construction, shopping-centers are popping up: Vienna is becoming modern. And colorful. Exciting.
Post-war ennui appears to be a thing of the past ...
Finally, Vienna is a happening place.
We no longer need a black market either. What for? We've got the free market now.


Dunkles Wien
(Photos © Filmarchiv Austria)
Links:

EVOLVER Reloaded
About EVOLVER - The International BETA Edition
"EVOLVER - Play it again, HAL"
The Austrian web-based magazine EVOLVER is the first (and still the best) online publication by professional journalists and writers in the German speaking countries. For more than twelve years now (since autumn of 1996), the EVOLVER editors provide their readers with exclusive stories, specials, reviews and opinion columns from all areas of pop-, cyber- and subculture - from Hunter S. Thompson to "Bastard Pop", from Nick Tosches to Frank Miller, from original trash novels to a comprehensive history of porn movies.
Links: