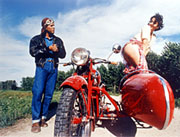 In English_

Interview Tinto Brass
"First, I check out the butt"
He explored the valley of the dolls and let the Roman Empire burn in "Caligula" - EVOLVER had a chat with the Italian filmmaker on the occasion of his 75th birthday. 30.05.2008
On March 26, the Italian director of erotica, Tinto Brass, celebrated his 75th birthday. Many consider him a sexist and dismiss his films as pure pornography. But that label doesn't do justice to Brass' œuvre- he offers more than naked flesh can show. To elaborate, read part one of our EVOLVER portrait.
But for now, we shall fall silent while Signori Manfredo, Tomaso and Brass converse ...

EVOLVER: A face can lie, a derriére cannot ...
Brass: That's probably the most widespread sentence that I supposedly said.
EVOLVER: It's not from you?
Brass: Honestly? I don't know.
EVOLVER: But you agree with the statement?
Brass: If you don't take it too seriously, yes. A face can be painted over with make-up, conceal its age or impurities; a mouth can spew cruel lies. A butt is definitely more honest than that.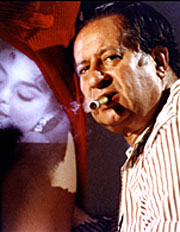 EVOLVER: You are frequently called an ass festishist ...
Brass: There is certainly some truth to that. .. with women, first, I check out the butt. Even if it can't speak - a round behind speaks to me. Of course, I do not consider it detached from the rest.
EVOLVER: You've been in the movie business for half a century. Do you ever think of quitting?
Brass: Let me put it this way: The intervals between my films are getting somewhat longer. Otherwise, I'll keep making movies as long as I live.
EVOLVER: What is your relationship to pornography?
Brass: I don't really have one. Neither have I considered it particularly important to distance myself from pornographers. I already do that by developing the moments ofs lust and desire out of the stories themselves.
EVOLVER: Your international breakthrough in the 70s was in a way connected to the porn-boom...
Brass: The success of "Deep Throat" in mainstream cinemas inevitably openend new opportunities. Out of the blue, one could get a big budget and sponsorship deals for explicit material. That helped me immensely. "Salon Kitty" would have otherwise never been made, at least not in that form.
EVOLVER: And "Caligula" was the overkill version?
Brass: Well, I definitely have nothing to add to "Caligula".
EVOLVER: Be it "Kitty", "Caligula" or "Senso 45" - the decadence of excessive power is a regular theme of your work ...
Brass: That is certainly the case. To me, the point is to stage the dance on the figurative volcano. Because that's exactly what happens when power reaches it's zenith: The protagonists celebrate, and in full knowledge of impending doom the excesses become increasinlgy bizarre.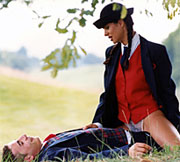 EVOLVER: Numerous other Italian directors also love the morbid charm of decay; why is that so?
Brass: It suits our theatrically inclined soul. I believe, though, that the final stage of superdimensional power is not an Italian, but a European theme. Currently there are people living on our continent that have experienced the downfall of the aristocratic system and the end of both democracies and fascist dictatorships alike. For movie directors, such transitional periods in particular offer stories that are situated far beyond the mundane in terms of their depravity. Which doesn't count for "Caligula", of course - as we know, the Roman Empire did not fall on account of that emperor.

Tinto Brass
(on DVD @ Cult Epics)
Links:

EVOLVER Reloaded
About EVOLVER - The International BETA Edition
"EVOLVER - Play it again, HAL"
The Austrian web-based magazine EVOLVER is the first (and still the best) online publication by professional journalists and writers in the German speaking countries. For more than eleven years now (since autumn of 1996), the EVOLVER editors provide their readers with exclusive stories, specials, reviews and opinion columns from all areas of pop-, cyber- and subculture - from Hunter S. Thompson to "Bastard Pop", from Nick Tosches to Frank Miller, from original trash novels to a comprehensive history of porn movies. 
Links: