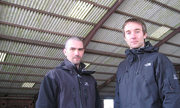 In English_

CD-Review: Autechre - Quaristice
Pop Songs for Your Synapses
An adventure into accessibility? The ninth longplayer by Mssrs. Booth and Brown is divided into 20 soundbites that one might indeed call pop songs. Well, almost ... 21.06.2008
As anyone familiar with the work of Autechre knows, Rob Brown and Sean Booth never repeat themselves. It would nonetheless be wrong to speak of concept albums in this particular context. The truth is: each of their highly complex, at times atonal sound constructs is based upon a self-defined concept. As usual, "Quaristice" offers up the fast-forwarded and rewound artefacts so typical of Autechre. But this time, the underlying structures step into the foreground for the very first time.
Just to clarify: Said structures were there from the very beginning ("Incunabula"), but concealed, lost in the mix. Autechre's concept can be considered a homemade language; a syntax that allows single sounds or melodic fractals to communicate with each other. Which is exactly what makes listening to Autechre so exciting. The perception of these "hidden" stunt-composing consequentially takes place in the subconscious. But since Rob and Sean include themselves as digitally verbalised speaking machines into their "pop songs" on "Quaristice", it is that much easier to arrive at that conclusion. Or, put differently: it goes directly under the skin of their dialogue-esque structures.
The fact that instruments "speak" to each other in a compositorial context is nothing new per se. This artistic sleight of hand is mostly known from classical programme music. Simply think of Mussorgsky/Ravel's "Pictures at an Exhibition", in particular the picture (= piece) "Samuel Goldenstein and Schmuyle". The rich, slow and self-rightous jew Goldenstein is portrayed by a powerful, hassidic-arabic charged double bass/cello motive, the poor jew Schmuyle panhandling him by three stuffed trumpets, which chant, rattle and whine his beggar's motive much faster. For Mussorgsky/Ravel, certain intruments represent certain people or characters, respectively.
So what exactly do Autechre's rhythmic and melodic snippets, infinitely folded unto themselves, stand for? If one were able to render the chemical signals of our brain audible - not a big strech of the imagination - they would probably sound exactly like this. How do neurons sound? Probably like synapses in permanent antagonistic interplay - nonstop chemical communication. Somehow, Autechre's music must have a part in it, since there is hardly any other sonic environment that massages and stimulates our cortex so directly as Autechre's. In that sense, Autechrian communication takes place on two levels: sounds collide in a non- linear and anticyclical way within the piece (the first level), always maintaining a high amount of activity. This in part is transferred simultaneously to us, the listeners (the second level). All in all, two for one.
What's new on "Quaristice" is the structure of the album: 20 segments in precise pop song length. Not all of them are rhythmical. The opener ("Altibzz") for instance is a dreamy, ambient keyboard ballad - basically to lull us into a false sense of security, before Autechre release their synapse music to our battered brains, scarred by commercialism and constant nonsensical information.
Consider that "Quaristice" - regardless of the fact that it is Autechre's most accessible opus to date - demands a lot of concentration. Otherwise, one risks missing important particles, structures and simulacra. If this critical plane of perception is reached, it becomes clear: all elements of bionical electronics are communicating with each other, just like our synapses.
With "Quaristice", Sean Booth and Rob Brown have definitely managed to harness the power of the neuron. It would be completely futile to pick the individual tracks apart; after all, basic system theory states that the sum is always greater than its parts.


Autechre - Quaristice
ØØØØØ
Leserbewertung:





(bewerten)
Warp/edel (GB 2008) 
Links:

EVOLVER Reloaded
About EVOLVER - The International BETA Edition
"EVOLVER - Play it again, HAL"
The Austrian web-based magazine EVOLVER is the first (and still the best) online publication by professional journalists and writers in the German speaking countries. For more than eleven years now (since autumn of 1996), the EVOLVER editors provide their readers with exclusive stories, specials, reviews and opinion columns from all areas of pop-, cyber- and subculture - from Hunter S. Thompson to "Bastard Pop", from Nick Tosches to Frank Miller, from original trash novels to a comprehensive history of porn movies. 
Links: